2022 COSB Leadership Institute
October 4-5, 2022
Louisville, KY
COSB Vision, Mission, and Goals
Our vision is for children who are blind or visually impaired to live their best possible lives.
Our mission is to provide BVI students with the education, support, and services they need to succeed by offering training, growth, and development opportunities to professionals in the BVI field.
Our goals are to (1) provide 100% of COSB members with opportunities and resources for professional growth and development; (2) provide 100% of BVI students with the education, support, and services needed to succeed; (3) make a positive contribute to the BVI education field; and (3) thrive financially as an organization.
Agenda
Tuesday, October 4, 2022
Morning Session Combined Track
Session
Description
Time

Opening session and 

COSB member resource discussion

Learn about resources available to COSB member organizations and discuss what resources need to be developed.

9:00 am – 9:45 am

Seminar: ELL Best Practices

Presentor: Conchita Hernandez

Our population of English Learners is growing all over the country. This session will go over parent engagement for this population, strategies in the field and how you can join a network to get your questions answered for this population. 

9:45 am – 10:30 am

Break

Sponsored by Vanda Pharmaceuticals

Mix and mingle with your colleagues and visit our conference sponsors

10:30 am – 10:45 am

Workshop: Branding and storytelling

Presentor: Joy Harris

Identify what makes your organization's brand unique, and create a strategy to skillfully tell your story.

10:45 am – 11:30 am

Seminar: The Annual Report – A tool for branding and professional development 

Presentor: Jerry Humphreys

Examine how your organization's annual report can be a vital part of your solidifying your brand, telling your story, and developing your team.

11:30 am – 12:00 pm

Lunch sponsored by CVS Pharmacy Spoken Rx

Enjoy networking with colleagues and catching up on emails.

12:00 pm – 1:15 pm
Tuesday, October 4, 2022
Afternoon Session A Leadership Track 
Session
Description
Time

Seminar and Discussion: Recruitment and Retention – Desperate Times Call for Desperate Measures

Presentors: Emily Coleman, Rob Hair, and Sergio Oliva, and Matt Schultz

Given difficulties recruiting and retaining employees at all levels, it's important we build off what we know has worked and also think creatively about what could work better. This panel discussion will provide information from 3-4 organizations regarding their own approaches to staffing organizations during challenging times. Sometimes even one fruitful idea can change the outcome potential for our students and their programs.

1:15 pm – 2:00 pm

Seminar: Professional Development for School Support Personnel

Presentor: Michele Cormeir

This presentation will discuss the challenges faced in providing meaningful professional development opportunities to school support staff (specifically educational assistants and residential staff). Ideas will be shared on how schools might work to overcome these difficulties to train and grow staff who serve in these roles.

2:00 pm – 2:45 pm

Break

Mix and mingle with your colleagues and visit our conference sponsors

2:45 pm – 3:00 pm

Workshop: Strategies for Partnering with Your Local University

Presentor: Tina Herzberg

Universities and schools for the blind can work together for personnel recruitment and professional development. The presenter will share what she has learned through her experiences in partnering with her local school for the blind and completing research studies. The session will also include practical strategies for collaboration.

3:00 pm – 3:45 pm

Working session: Call to Action

Identify action items and next steps to apply the knowledge you have gained during the sessions. Then discuss your plans and learn from the plans of your colleagues.

3:45 pm – 4:30 pm
Tuesday, October 4, 2022
Afternoon Session B Implementation Track 
Session
Description
Time

Seminar: ECC – Every Child Can

Presentor: Kathy Mullen

VIPS has gone through the process of translating the Expanded Core Curriculum into family-friendly language so the parents of young children who are blind/visually impaired can better understand its intent. From there, the ECC areas have been cross-walked with early learning standards to further establish the ECC as a foundation for developmentally appropriate preschool and early intervention settings for ALL children. VIPS continues its research and work making the argument for inclusive education using the ECC as our guiding light; in doing so, recognizing the the ECC really does mean Every Child Can!

1:15 pm – 2:00 pm

Training:

Expanded Core Curriculum, Assessment & Instruction

Presentor: Robbin Clark

This training will focus on three distinct aspects of implementing the Expanded Core–through curriculum (what resources & materials are there?), assessment (what does formative Expanded Core assessment look like?) and instruction (how do I create conditions for learning with rigorous content?). Participants will have the opportunity to get a copy of the ECC High School Readiness Checklist and other Expanded Core resources.

2:00 pm – 2:45 pm

Break

Mix and mingle with your colleagues and visit our conference sponsors

2:45 pm – 3:00 pm

Workshop: STEMFINITE POSSIBILITIES 

Presentor: Jason Martin

The STEMFINITE Possibilities workshop is a condensed version of our program that has been specifically geared to gain interest from educators, vision professionals, rehabilitation agencies, and school administrators. Ultimately we hope to facilitate relationships through this workshop to bring STEMFINITE Possibilities events nationally to schools and agencies who serve Blind and Visually impaired student populations.

3:00 pm – 3:45 pm

Working session: Call to Action

Identify action items and next steps to apply the knowledge you have gained during the sessions. Then discuss your plans and learn from the plans of your colleagues.

3:45 pm – 4:30 pm
Happy Hour 5:00 pm – 7:00 pm
During the cash bar happy hour, enjoy cocktails and networking, collaboration and commiseration with old and new friends.
Awards Banquet 6:30 pm – 8:00 pm
Celebrate the COSB and POSB award winners! To purchase a ticket to the banquet ONLY: COSB Leadership Institute Banquet Tickets, Tue, Oct 4, 2022 at 6:30 PM | Eventbrite
Speakers
Emily Coleman is the Superintendent at the Texas School for the Blind and Visually Impaired (TSBVI) and host of the podcast, "A Sense of Texas." Emily began her career at the Washington State School for the Blind (WSSB) as an itinerant Teacher of Students who are Visually Impaired and then worked as their Outreach Director and State Vision Consultant with Washington Sensory Disabilities Services.  She has served as President of the Association for Education and Rehabilitation of the Blind and Visually Impaired (AER) and President of Pacific Northwest AER. Emily is married with three teenage children and her middle child, Eddie, was born blind with Optic Nerve Hypoplasia. Articles from her perspective as a Mom can be found on FamilyConnect.org.
Maria (Conchita) Hernandez Legorreta was born in Mexico and grew up in California. She advocates for the rights of blind children and their parents in the public-school setting in the United States and abroad through a lens of intersectionality focusing on social justice. Conchita received her Bachelor's degree from Saint Mary's College of California, majoring in International Studies, Spanish, and History. She then went on to Louisiana Tech University where she received her Master's in Teaching with a focus on teaching blind students. As well, Conchita earned a master's certificate in working with Deaf-Blind students from Northern Illinois University. She is currently a Doctoral student at George Washington University pursuing a degree in Special Education. Conchita has been published in Future Reflections and Rooted in Rights. Conchita keeps up with research in special education and serves as a peer reviewer on the Journal of Blindness Innovation and Research. Conchita conducts workshops on best practices for educators and professionals in the field of disability and advocacy in the United States and internationally. Conchita worked in the rehabilitation field in Nebraska where she set up innovative programming for disabled adults. Conchita is the founder and Chair of METAS (Mentoring Engaging and Teaching All Students) a non-profit organization that trains educators in Latin America that work with blind/low vision students and other disabilities. In this role she engages lawmakers in policy discussions around people with disabilities and inclusion. Currently, Conchita works as the Maryland Blind and Low Vision Specialist. Conchita strives to be a voice for change for educators, professionals and advocates to make full inclusion a reality for people with disabilities in Latin America. Twitter: @Conchitahdz
Brandon Watts is the Director of Outreach Vision Services with the Utah Schools for the Deaf and Blind. He has been the director of the school for 9 years and previously served as a teacher of the visually impaired for 5 years. He received his Bachelor's Degree in Special Education for the Visually Impaired and earned his Master's Degree in Special Education Professional Practice, both from the University of Utah. He received his Education Administrative endorsement from Utah State University. Brandon is also a certified Life Coach and is passionate about music, especially blues guitar. Brandon resides in Salt Lake City, UT with his wife, Dominique, and 5 year old daughter, Amari.
Jay Humphreys is a TVI and special education teacher at the Tennessee School for the Blind.  He serves as the wrestling and goalball coach and is a member of the school data team.  Jay is currently in the Educational Leadership program at Tennessee State University.
Dr. Michelle Cormier has spent most of her career as a teacher for the visually impaired and orientation and mobility specialist, working with both children and adults. She holds an undergraduate degree in Visually Impaired Education from Michigan State University, a masters degree in Orientation and Mobility from San Francisco State University, and a doctorate in Leadership and Professional Practice from Trevecca Nazarene University. Dr. Cormier has been extremely fortunate to work in many environments with the blind and visually impaired population, including public schools, adult blind rehabilitation centers, and non-profit organizations. Dr. Cormier currently serves as the Director of Residential Services at Tennessee School for the Blind, overseeing the staff who support students before and after school.
Rob Hair came to the field by serendipity. As a graduate of the vocal performance program at Converse College in South Carolina, he intended to make it big in opera. Rob changed majors, realizing it is hard to pay bills as an artist. So he went into education.  After striking out at public school interviews, he landed a job at the South Carolina School for the Blind–a move that permanently changed his career trajectory. He thoroughly enjoyed teaching piano, choir, and theater and taught computer technology and daily living skills classes. He obtained a master's degree in educational administration from the University of South Carolina, became the principal of the South Carolina School for the, and later moved to Massachusetts to work at the Perkins School for the Blind in Massachusetts. He supervised the preschool, kindergarten, and Lower School and briefly the deafblind program. 
In Boston, he met his husband and adopted two boys, who are now 12 and 13.  He lives in Maryland, where he has served as the superintendent of the Maryland School for the Blind since 2018. Rob is on the COSB board, Maryland Opera, and Everyman Theater boards and is a member of the Overlea Lions club. He resides in Baltimore City with his family and their dog, London.
Kathy Mullen joined the VIPS staff as the Director of Education in August 2012.  Although Kathy started her teaching career in a first grade special education classroom, she quickly recognized her first love as an early interventionist.  She came to VIPS with 24 years experience in First Steps as a developmental interventionist, primary service coordinator, and state technical assistant.  Kathy received her undergraduate education at Eastern Kentucky University in Elementary Education and Special Education – Learning and Behavior Disorders.  Kathy earned a Master's in Education in Mental Retardation and an additional certification in Interdisciplinary Early Childhood Education from the University of Louisville.  She has completed additional course work focusing on working with children with complex needs and early childhood education in inclusive settings.  Kathy is a state credentialed trainer in Kentucky and provides training to early childhood teachers and childcare providers across the state.  She has served as an adjunct professor in the College of Education at UofL and as a guest teacher at UK, UofL, Spalding University, Campbellsville University, and Indiana University.
Sergio Oliva has a strong program development and design background and is especially well-versed in building strong teams to match program goals. His overall experience includes project administration, strategic planning and identifying and measuring program outcomes. Sergio was hired in 2013 to lead and grow long-standing Braille Institute's national programs focusing on braille literacy (The Braille Challenge and Special Collection) and orientation and mobility (Cane Quest) for school-aged youth. Over the years, his responsibilities have expanded to oversee Youth Services, Child Development, the adult Orientation and Mobility program, Library Services via NLS, Vision Connect (customer service) and the Los Angeles Regional Center. Sergio served as the Secretary on the international board for the Association for Education and Rehabilitation of the Blind and Visually Impaired (AERBVI). Currently, he serves as a board member for the Council of Schools and Services for the Blind (COSB) and the California Transcribers and Educators for the Blind and Visually Impaired (CTEBVI).
Sergio was raised in Inglewood, CA and holds his Bachelor of Arts in Sociology with a minor in Education from the University of California, Berkeley, and a Master of Public Administration from Cornell University. Sergio loves traveling and reading used books.
Matt Schultz is the TSBVI Residential Director at the Texas School for the Blind and Visually Impaired (TSBVI). Matt has served in a variety of roles during his 20+ years at TSBVI including a classroom teacher, Behavior Specialist and as an Education Consultant with the Texas DeafBlind Project. Matt is a Certified Teacher of Students with Visual Impairments and an alumnus of the University of Texas at Austin. He resides in Austin, TX with his wife, Amanda and their 7-year-old son, Weston.
Sponsorship Programs
Professional development grants sponsored by CViConnect
Over the next year, CViConnect will sponsor several professional development grants. These grants can be used for eduator training and workshops that focus on cortical visual impairment (CVI). CViConnect will also sponsor student subscriptions, giving students with CVI access to their platform. All COSB member educators are eligible to apply. Interested applicants can discuss this opportunity during the Leadership Institute, and applications will open in late October.
Tech grants sponsored by Humanware
Humanware will help COSB members become more tech savvy by sponsoring several technology grants. These grants can be used to purchase devices, software, or subscriptions. Grants can also be used for training to increase technology skills. Learn more about this opportunity at the Leadership Institute.
Scholarships and professional development grants
sponsored by Vanda Non-24
Vanda Pharmaceuticals aims to increase education about Non-24 Hour Sleep Wake Circadian Rhythm Disorder. Vanda also wants to help combat this disorder. As part of this effort, the Non-24 program is sponsoring several student scholarships and residential staff professional development grants. Learn more about these opportunities at the Leadership Institute, and applications will open near the end of October.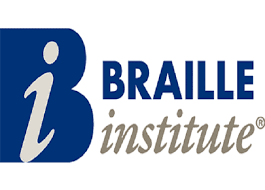 Professional development grants sponsored by Braille Institute
The Braille Institute is offering professional development grants to COSB members who want to increase their braille literacy. Grants can also be used for increasing braille literacy for students. So if you have a program in mind that increases braille literacy, be sure to discuss funding opportunities during the Leadership Institute.
CVSHealth disscusses accessible prescription labels.
During the Leadership Institute, a representative from CVS will discuss an innovative program called SpokenRx. This program makes prescription labels accessible to people who are blind or visually impaired. Be sure to learn more during the Leadership Institute.